Newsfeed Dinner Party
Sharing News and Food from Around the World
What if we created a social event where students can share news stories and food from around the world? When students come the a Newsfeed Dinner Party they will be challenged to bring a news story that is of interest to them and food that relates to the news stories region or culture.
Be a Newsfeed Dinner Party Host:
Invite a group of students 2-10 (friends / acquaintances / strangers ).
Have each participant bring an International news story that is of personal interest to them.
Each participant must then bring a food from the news story's culture or region (either homemade of from local restaurant).
Download the suggested prompts to help guide the conversation.
Alternate Approach:
Rather then keeping an open ended topic, pick a specific topic or region.
Have the students bring news stories and food that relate to the topic or region.
Key Features:
An easy replicable event that can be setup and hosted by students.
Connect to the international community in the local area (food, restaurants & people).
Makes news consumption fun and social.
A flexible toolkit to help customize the event for a variety of topics and a diverse group of participants.
Goals & Expectations:
Make the students acknowledge the importance of news issues to their friends and the local community.
Make students' engagement with news in a group by making the news consumption a social experience.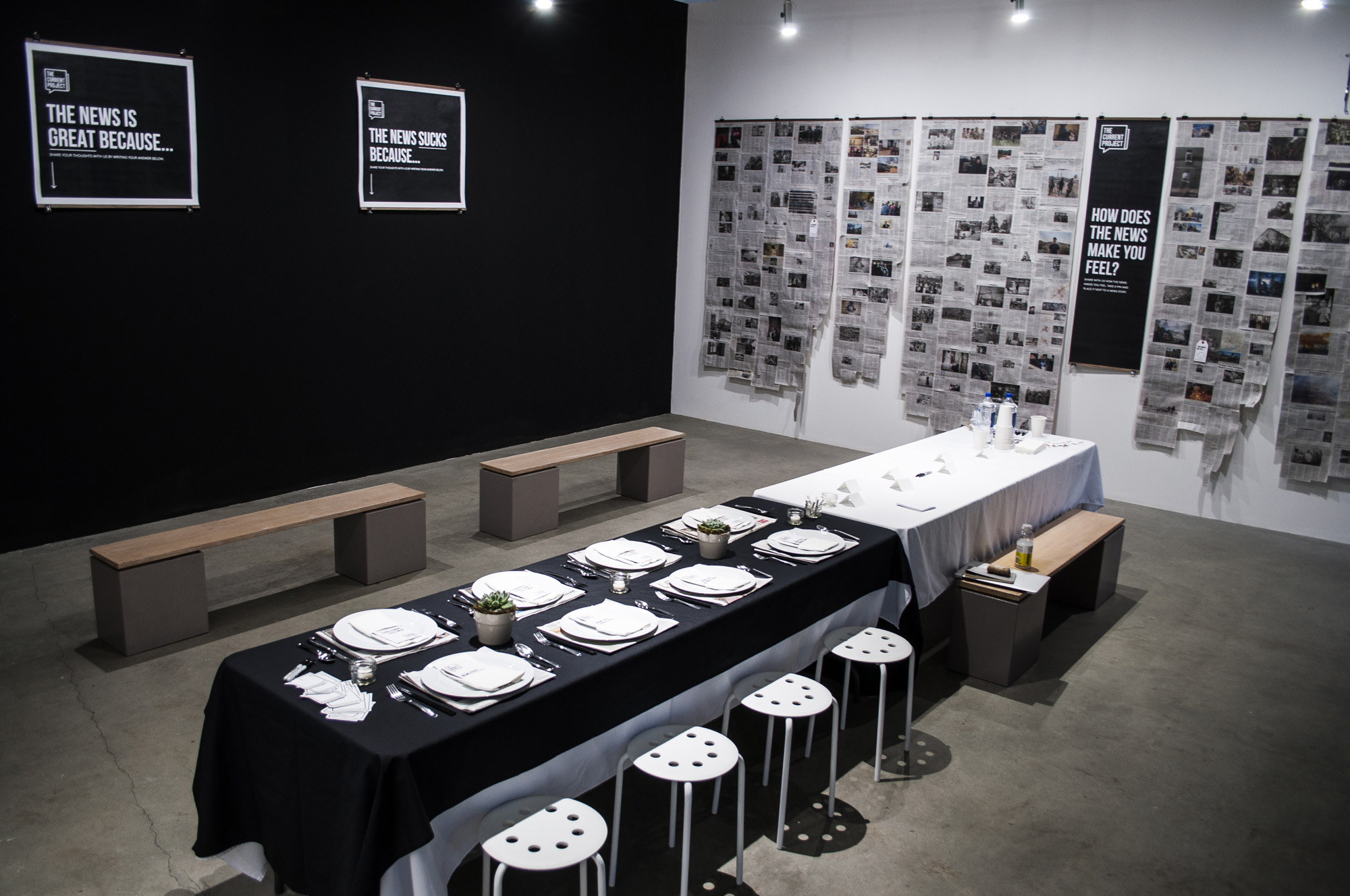 Jacob Lawrence Gallery Exhibit – Newsfeed Dinner Party Test Event
On March 3rd, 2015, I hosted a private one day gallery event at the Jacob Lawrence Gallery atUW to test out the Newsfeed Dinner Party concept. I invited 9 University of Washington students, of which 7 were able to attend (plus me as host). I asked each student to bring one international news story and a plate of food that related to their story to share with the group. Everyone that RSVP'd was able to attend, and brought the requested news story and food. The event was scheduled to go from 6:00pm – 8:00pm, but instead lasted until past 9:00pm.
Future Recommendations
One bit of feedback that I received, even prior to the event, was the idea that I was playing it a little too safe. Specifically with the guests and broad theme. It would be interesting to try this again with a more diverse audience. Even inviting strangers into the mix. This was supported by some of the conversations during the dinner, where they mentioned feeling safe. Another idea that was tossed around was having dinner focused on a specific issue or region so that the discussion was more focused. Based off of this feedback I came up with a spin-off project addressing these comments. You can read more about here.
Jacob Lawrence Gallery Exhibit – Interactive Stations
Upon the guests arrival, I had them place their food on a table and fill out a card specifying the food and where it was from. They were then asked to interact with three interactive stations. The first station was the news tapestries where guests could look at clippings from current newspapers separated by regions of the world. Guests could fill out and pin up cards explaining how a story made them feel. At the second interactive station, guests were asked two prompts, "The news is great because…" and "The news sucks because…" I was hoping to give people an opportunity to see what compels some people to read the news and why others choose not to read the news. At the third station guests were asked to fill out stickers stating the title of their news article and the story's location. They were then asked to place them on the corresponding map, which turned out to be harder then some expected. 
Future recommendations
News tapestries – It would have been good if I had labeled the various regions and main issues. I would also rethink how I would have the guest interact with the piece. Specifically, it would have probably been more interesting if I had asked the guests flag which issues matter to them. For the black board prompts, I would probably be more straight forward. Asking questions like what made you read the news, and what made you stop reading the news. I also wish that I had played up the map element a bit more, to highlight the lack of awareness of the various news story locations.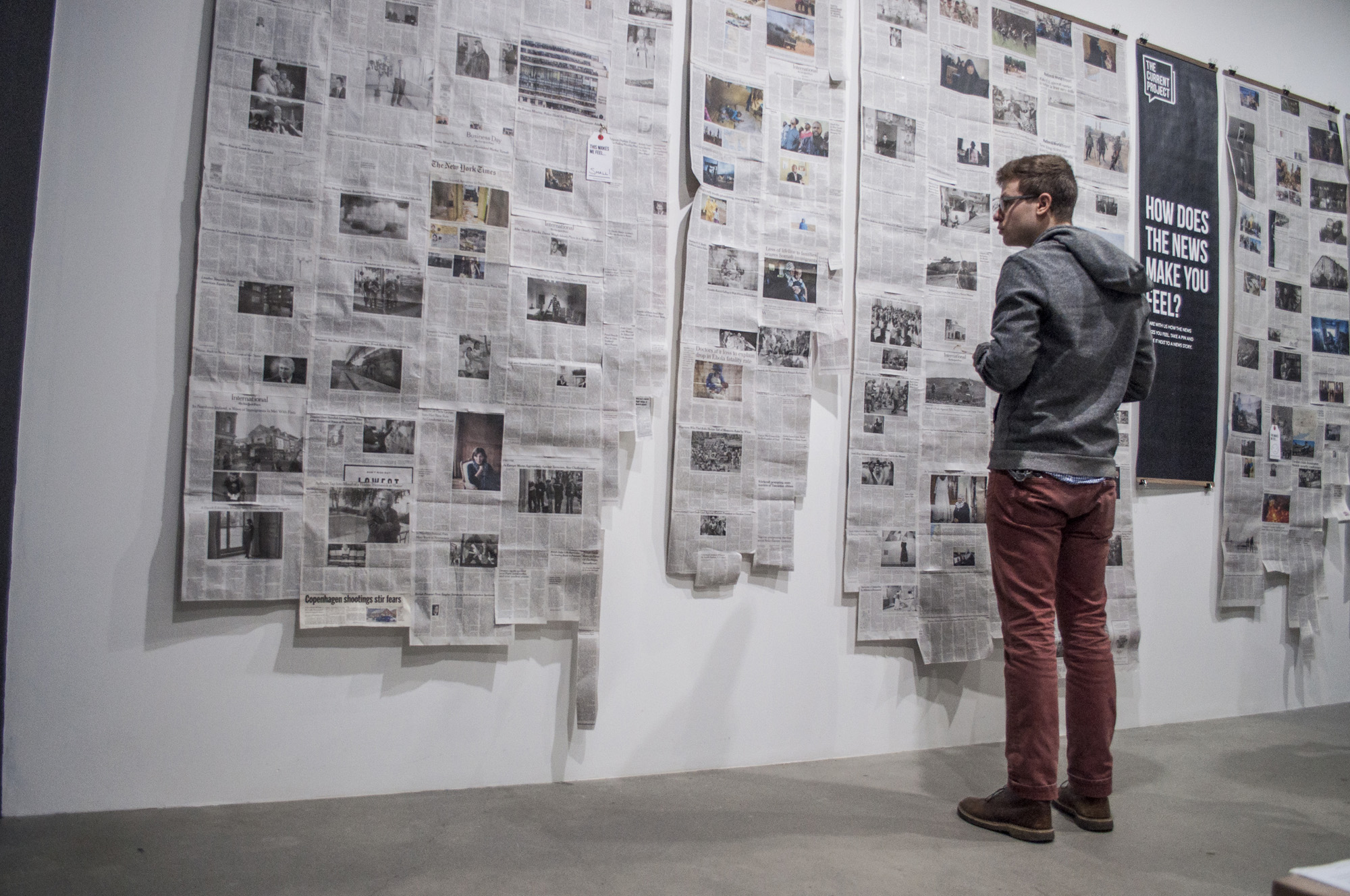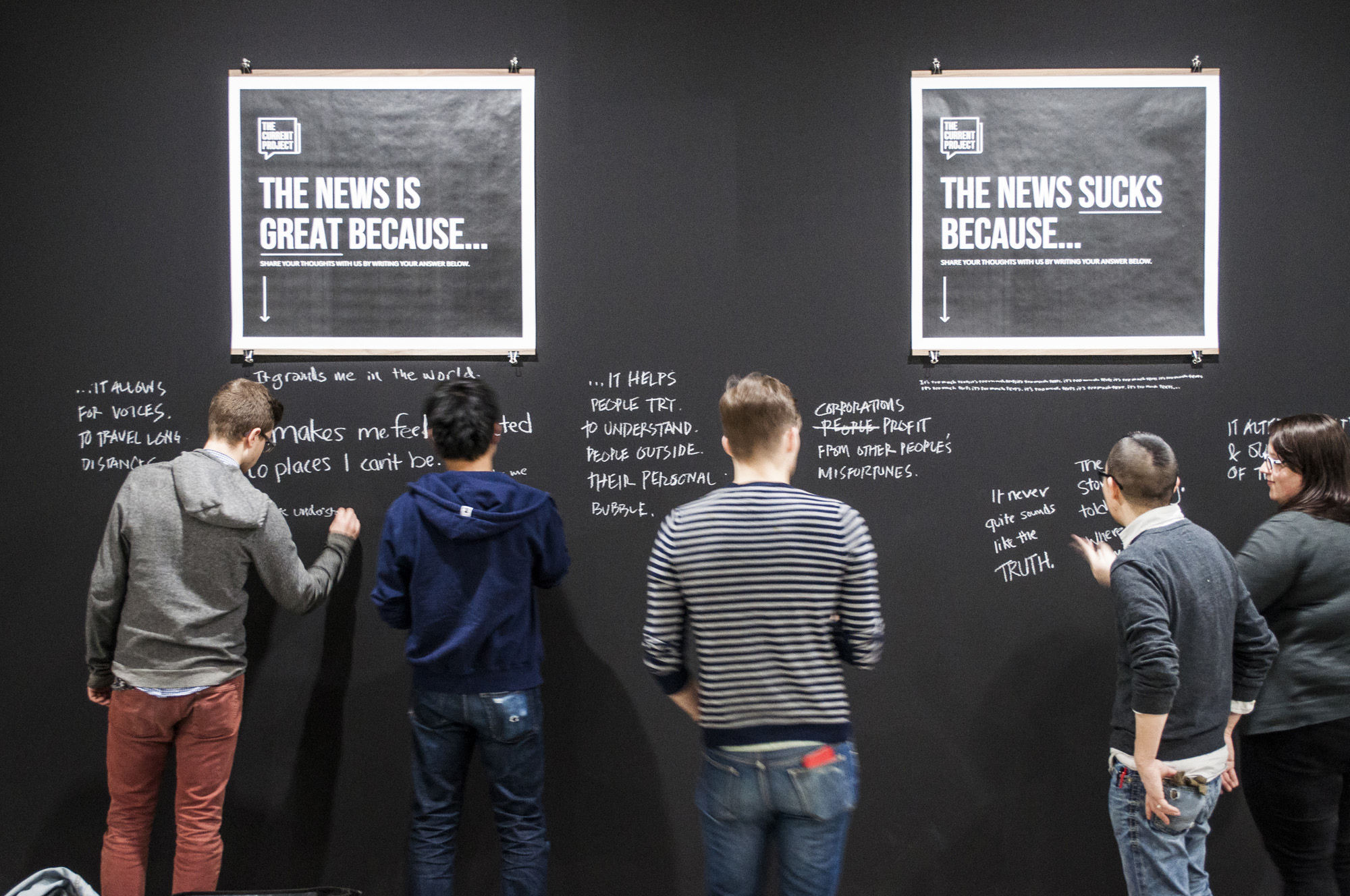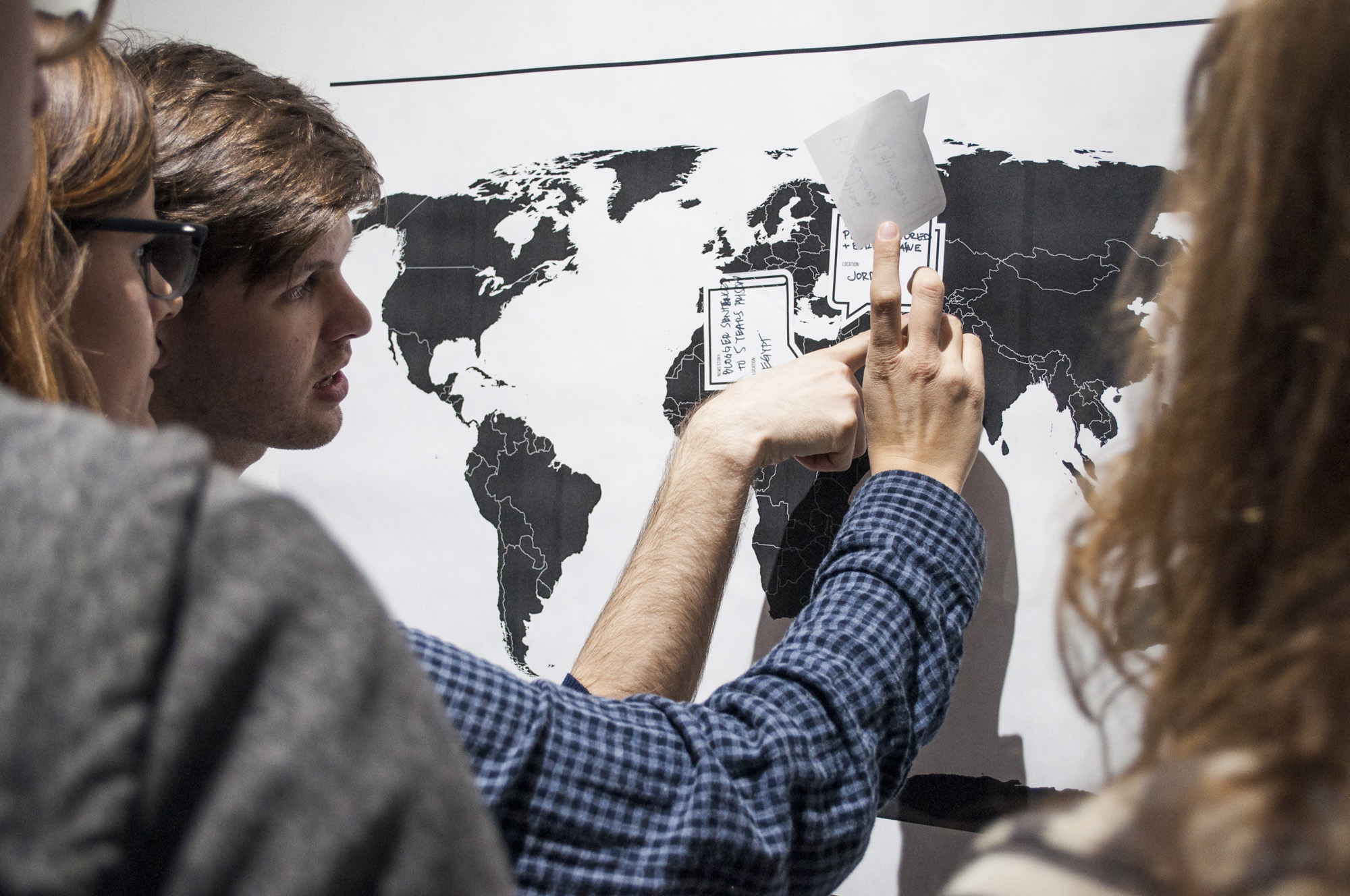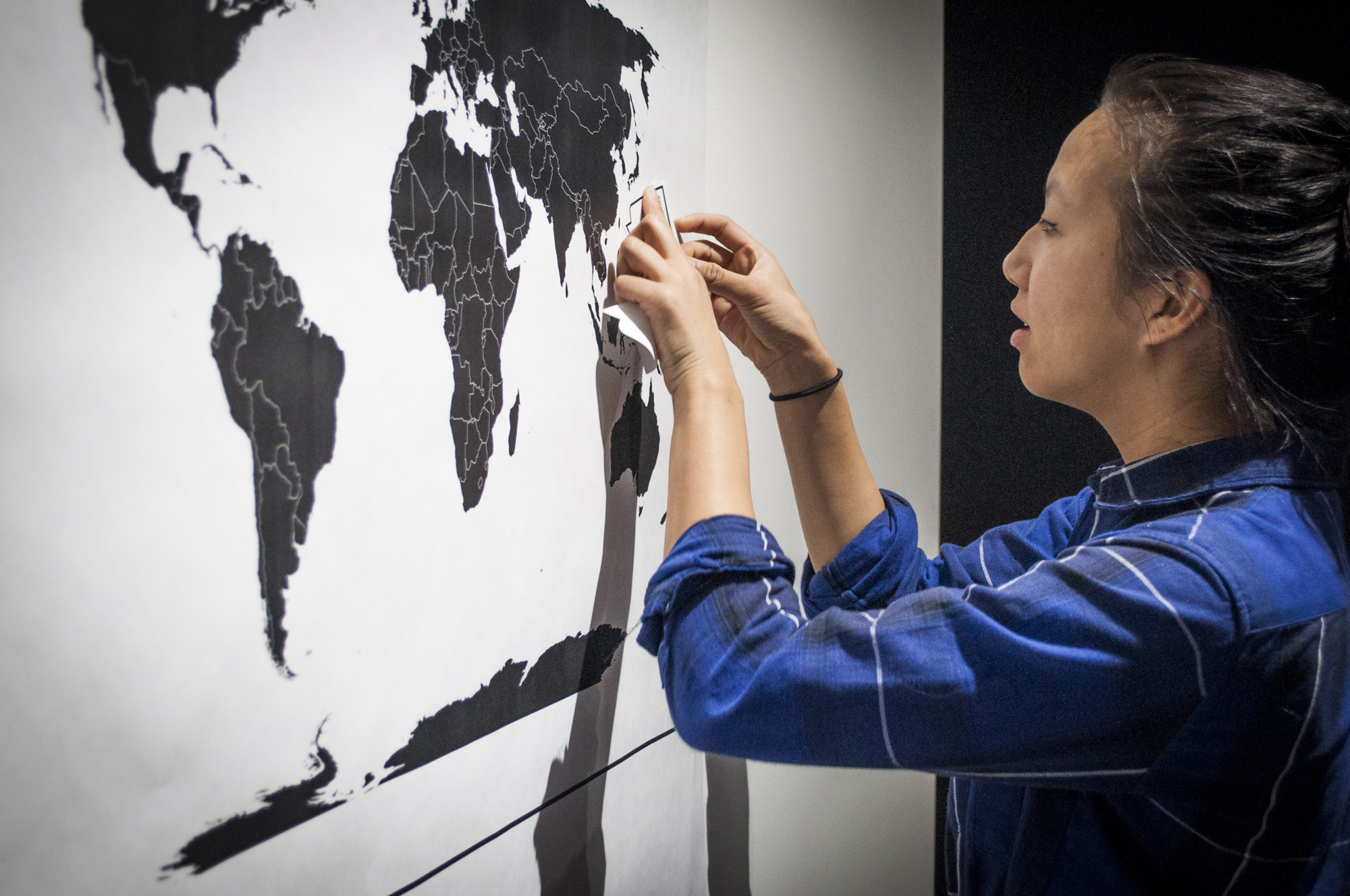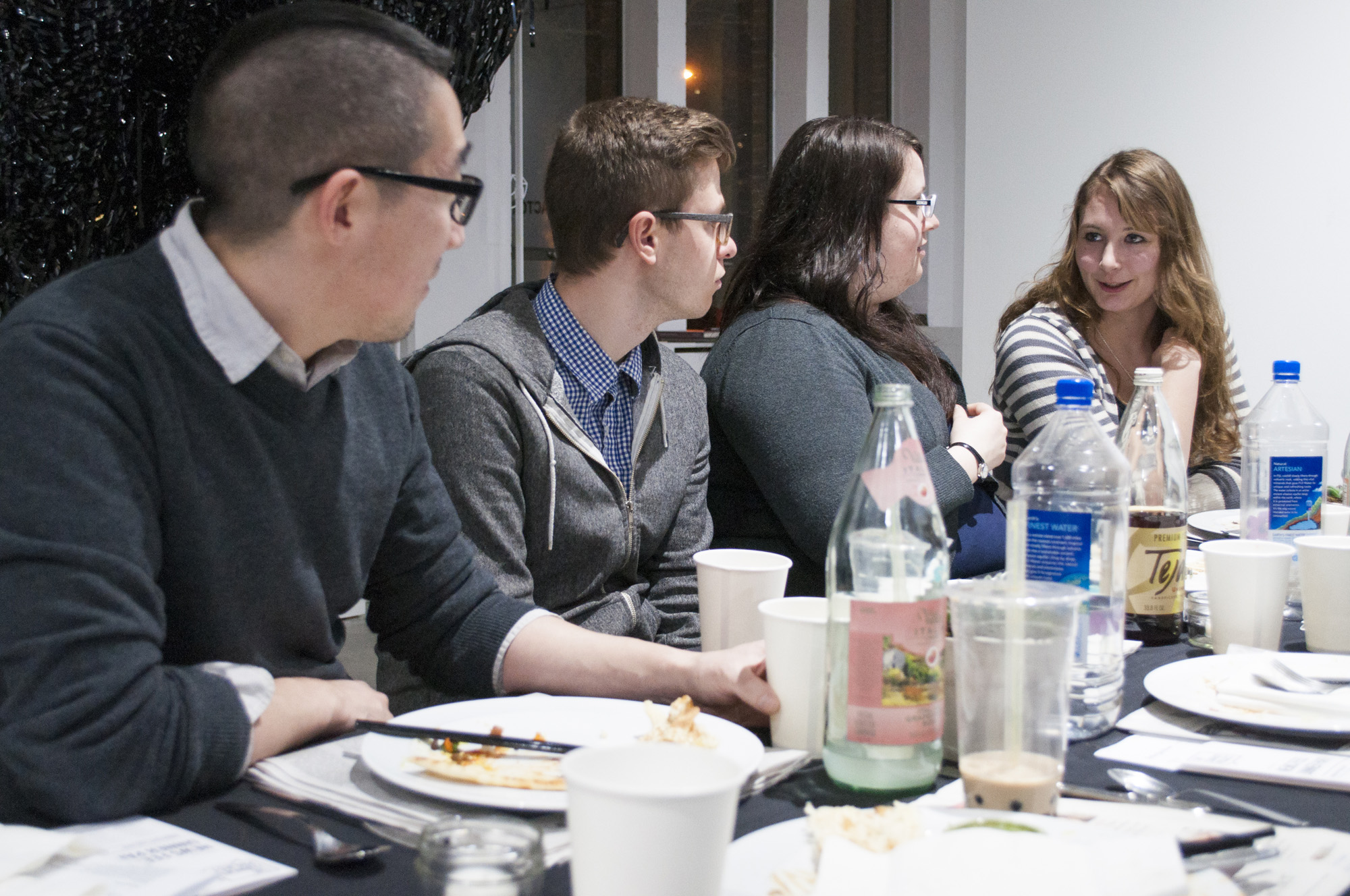 Jacob Lawrence Gallery Exhibit – Invitations
I created simple invitations that introduced the project to the guests, and outlined what was required of them to be a participant of this event. I designed the invitations so that they the template can be used by other students to host their own events.